Canada Museum
Map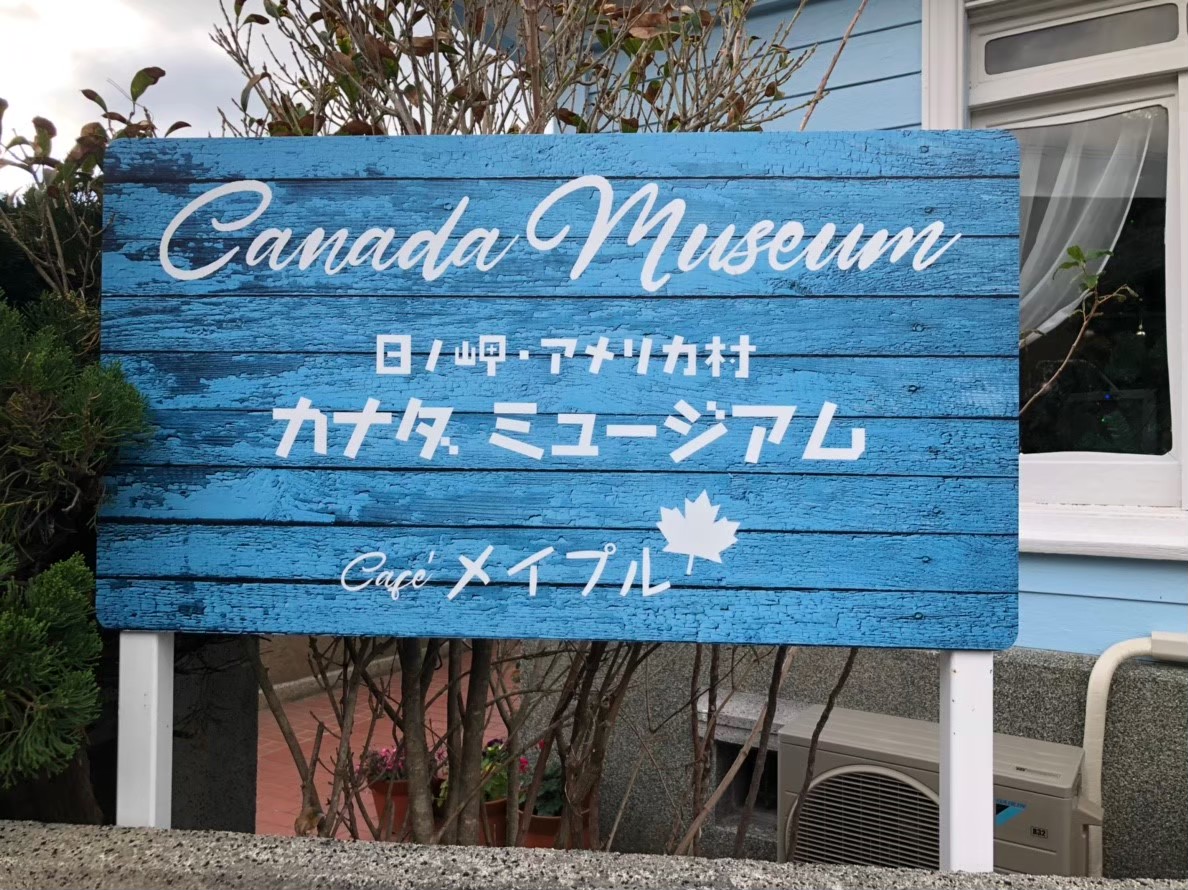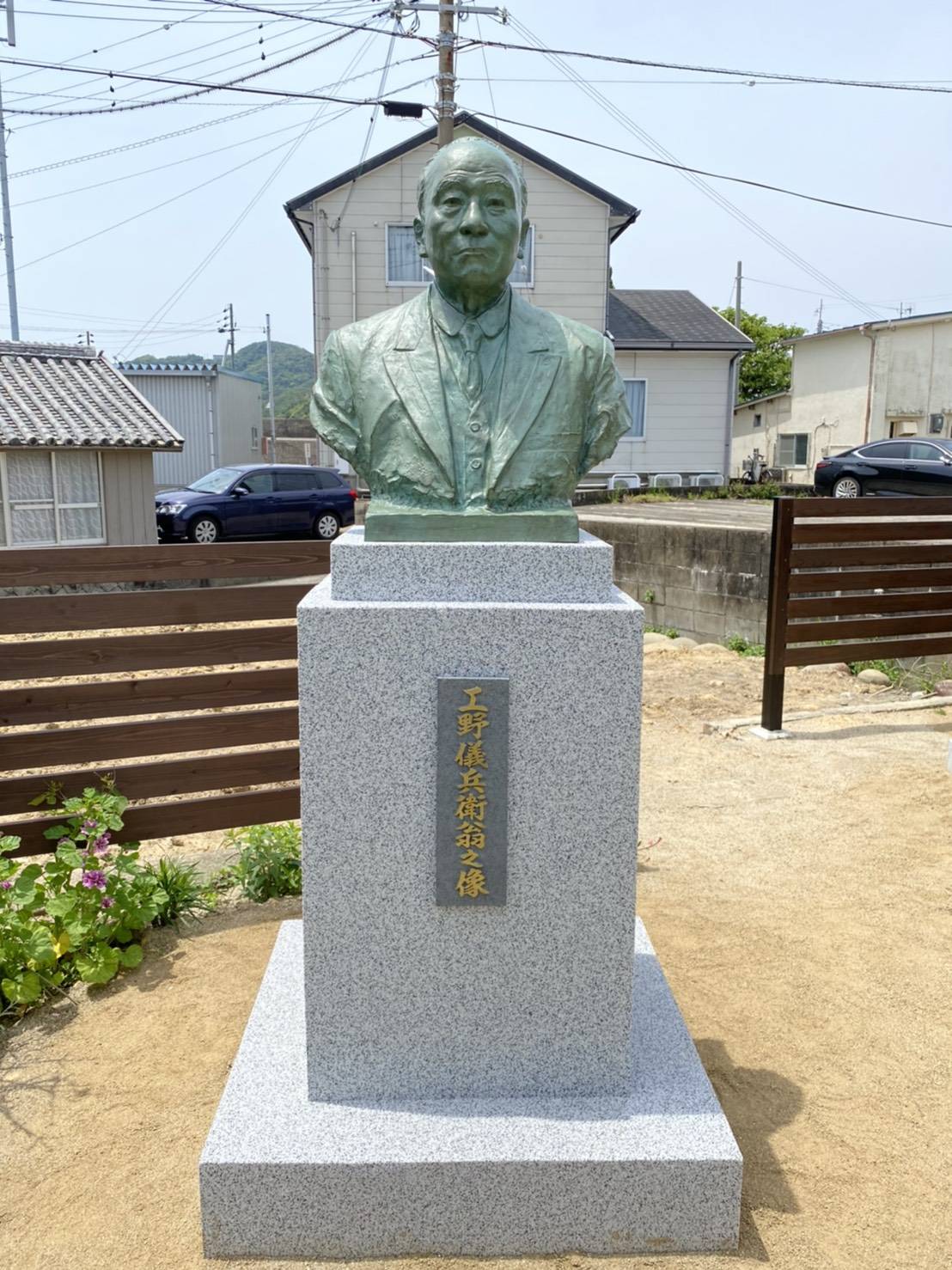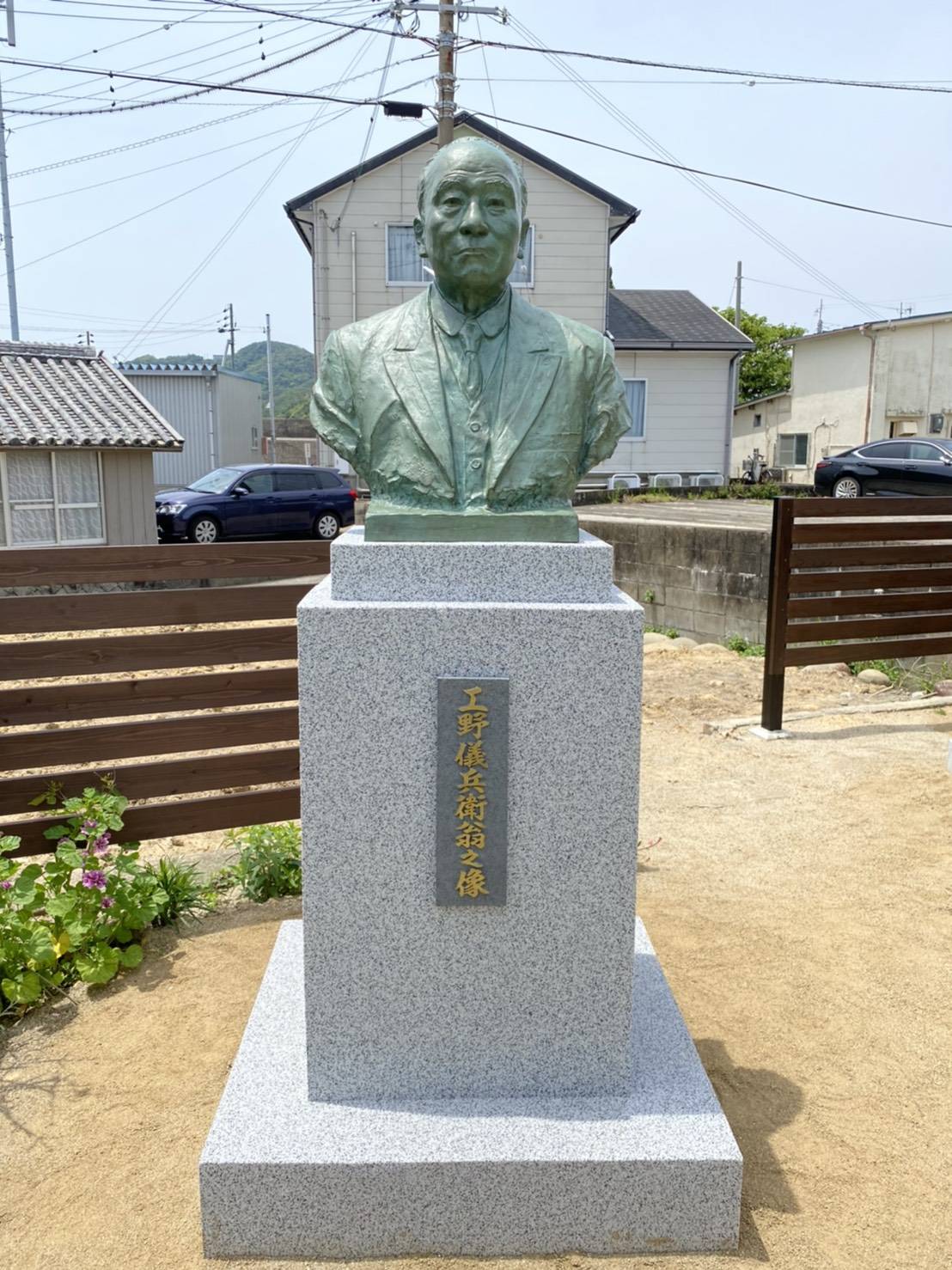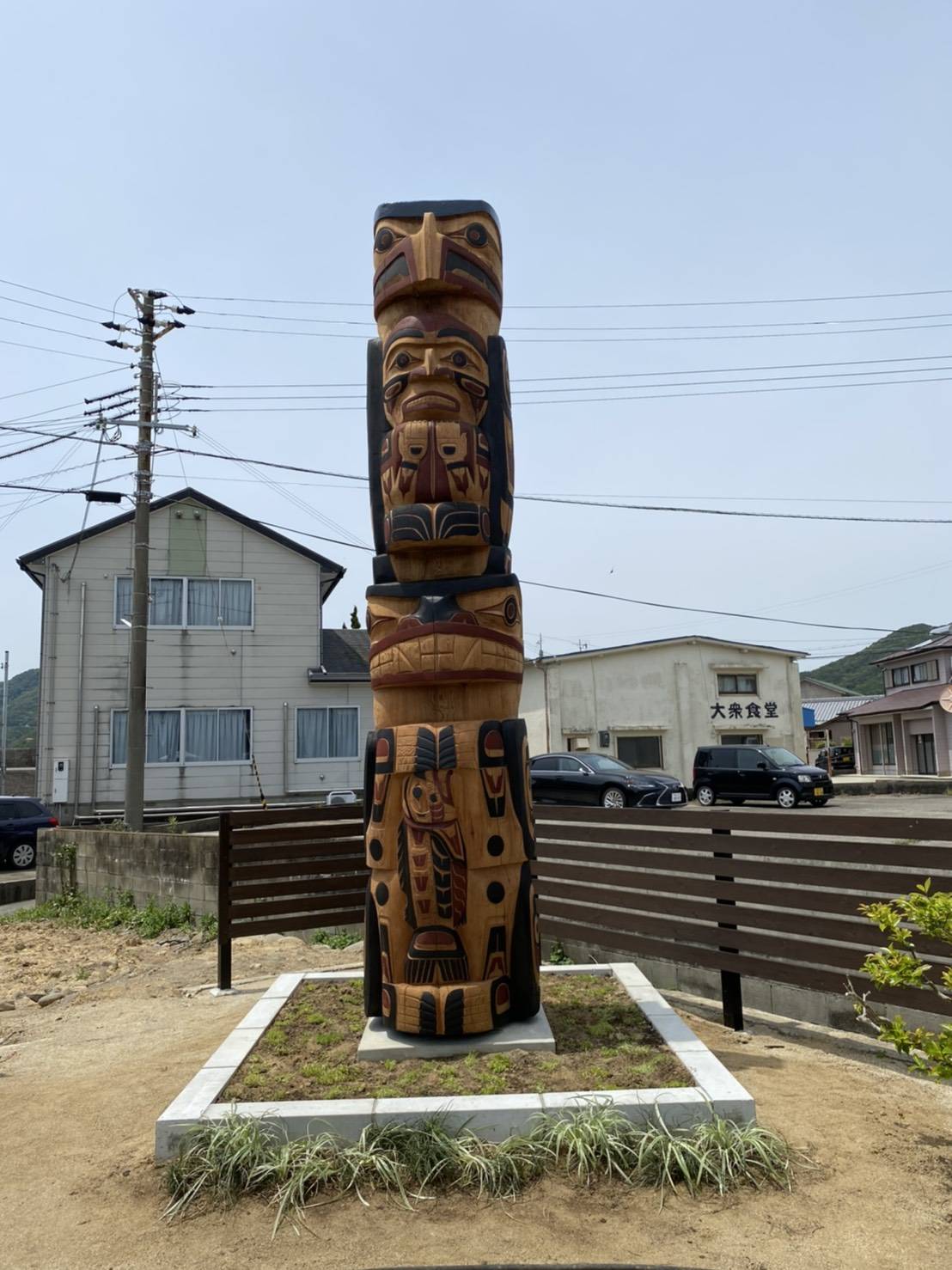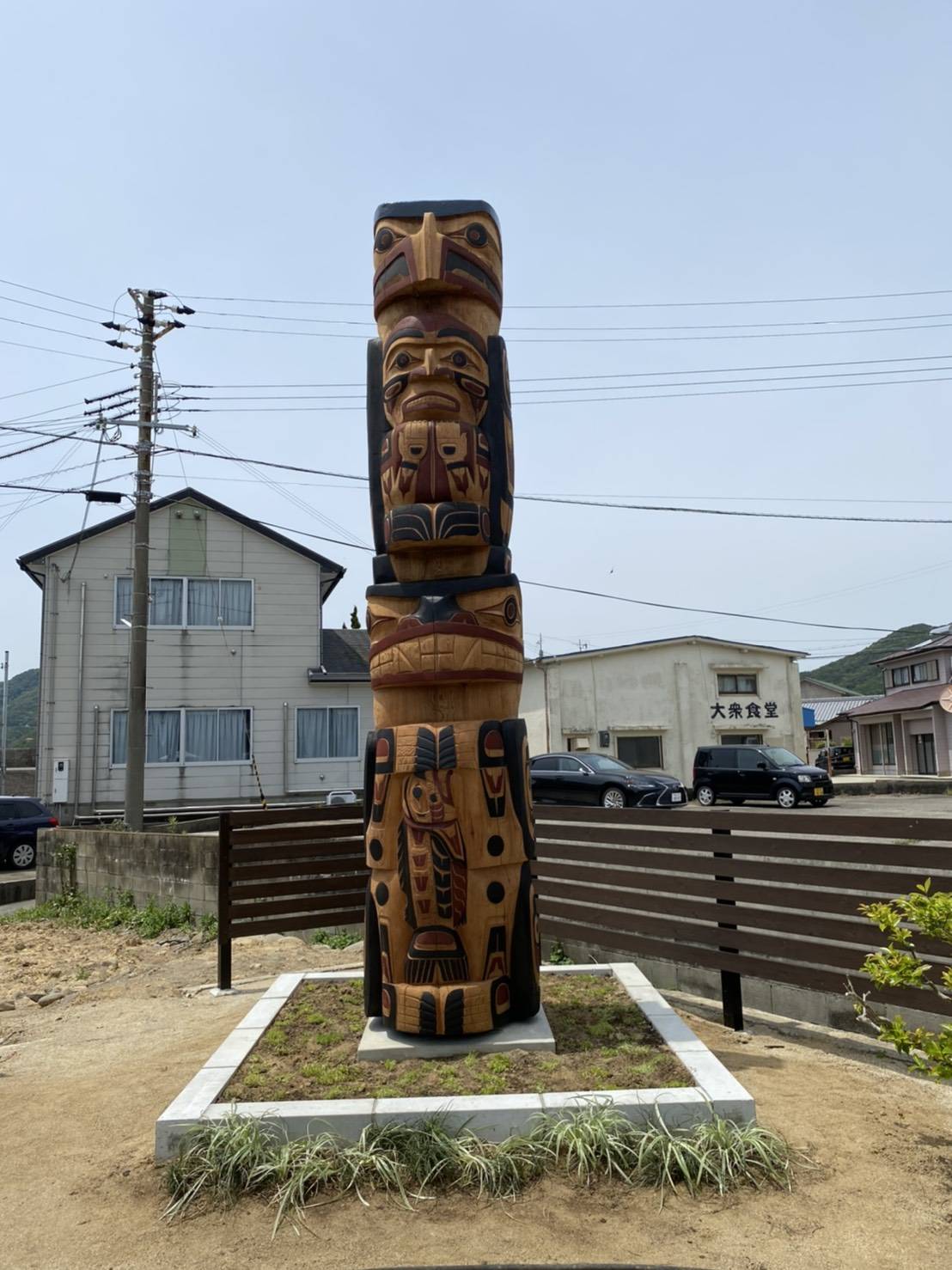 Mio is an administrative district of Mihama Town, Wakayama. It is known as a major hometown for emigrants, many of whom migrated to Canada. Some of them brought Canadian lifestyles and architectual styles back to Mio. This facility was built in a symbolic blending of a Japanese and Western-style house. It showcases the unique history and culture of Mio. Its roots were formed by the emigrants and their life experiences in Canada. The Canada Museum strives to fill the role of passing and preserving the local heritage, historical artifacts and migration resources for future generations. Visitors can also enjoy a cup of coffee at the cafe in the museum and relax while thinking about the old times when Mio sent people to Canada.
On May 11, 2021, a totem pole and a statue of Gihei Kuno were erected in the courtyard of Canada Museum. Toshio Takai, who is Gihei's great grandson, donated these new symbols of Mio to Mihama Town with the support of Sammy Takahashi (Japan-Canada Chamber of Commerce). Squamish Nation master carver Darren Yelton crafted the totem pole in Vancouver in honor of the life of Gihei and his impact on two communities spanning the Pacific. According to Yelton, the salmon represents the cycle of life. The bald eagle is a symbol of power and prestige, and the grizzly bear symbolizes strength.
Opening hours

Open:10:00 a.m. - 4:00 p.m.

Sunday, Monday, Wednesday to Saturday

Closed : Every Tuesday, December 29th ~January 3rd

Admission Fee

High school students/Adults (¥150 Cash only)

Students or Children under the age of 15 are free

Contact

Language : Japanese

+81-73-820-6231

Address
482,Mio,Mihama-cho,Hidaka-gun,Wakayama,644-0045,Japan
The nearest bus stop
America-Mura bus stop
Information

There is a free parking lot in front of the museum for about 7 cars.
Information provided by Canada Museum
Museum Floor Map download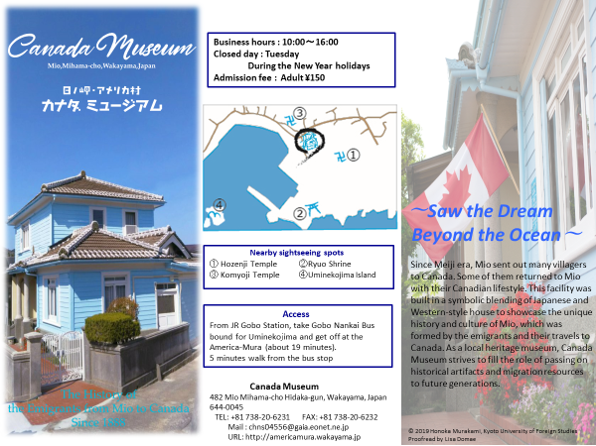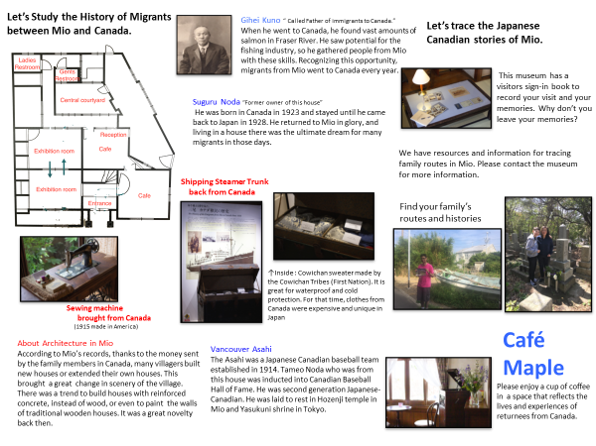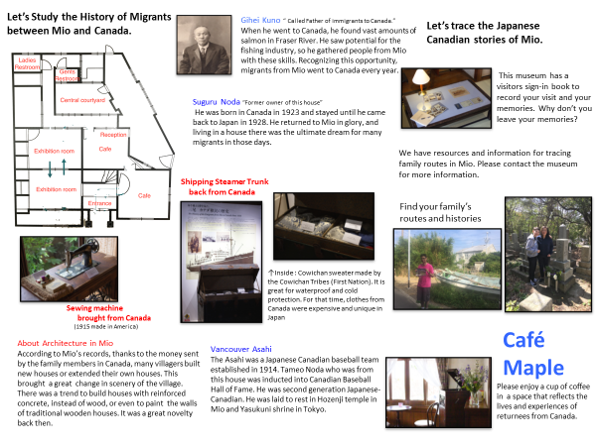 Ryuo-jinja Shinto Shrine
Map

Entrance to the shrine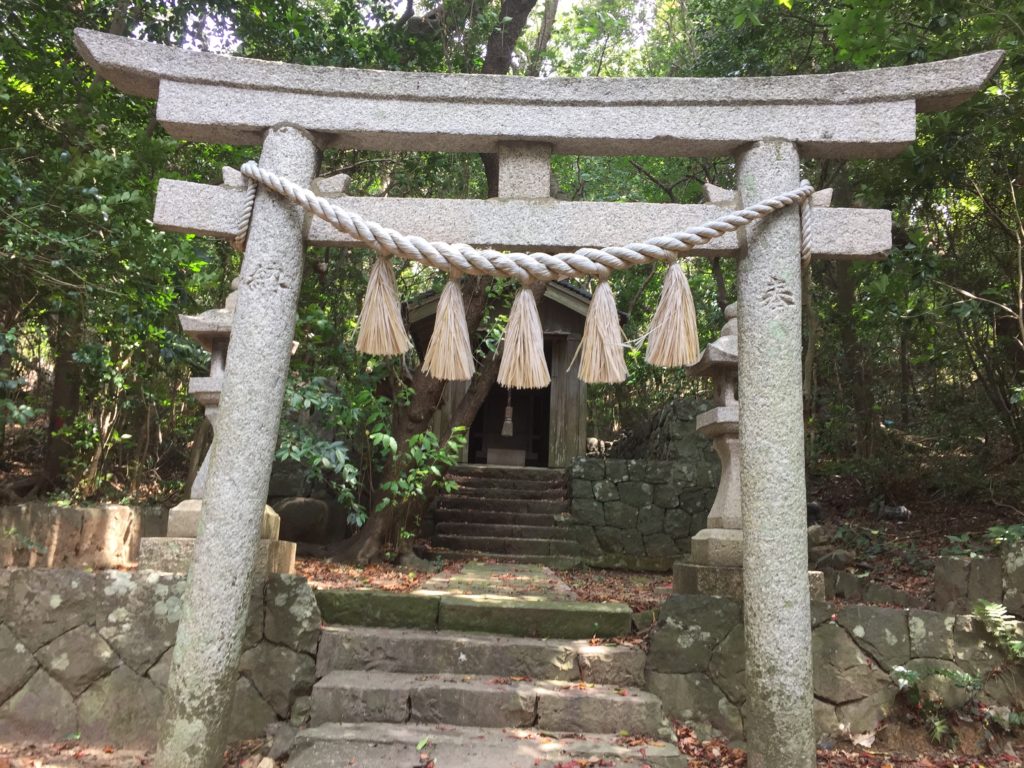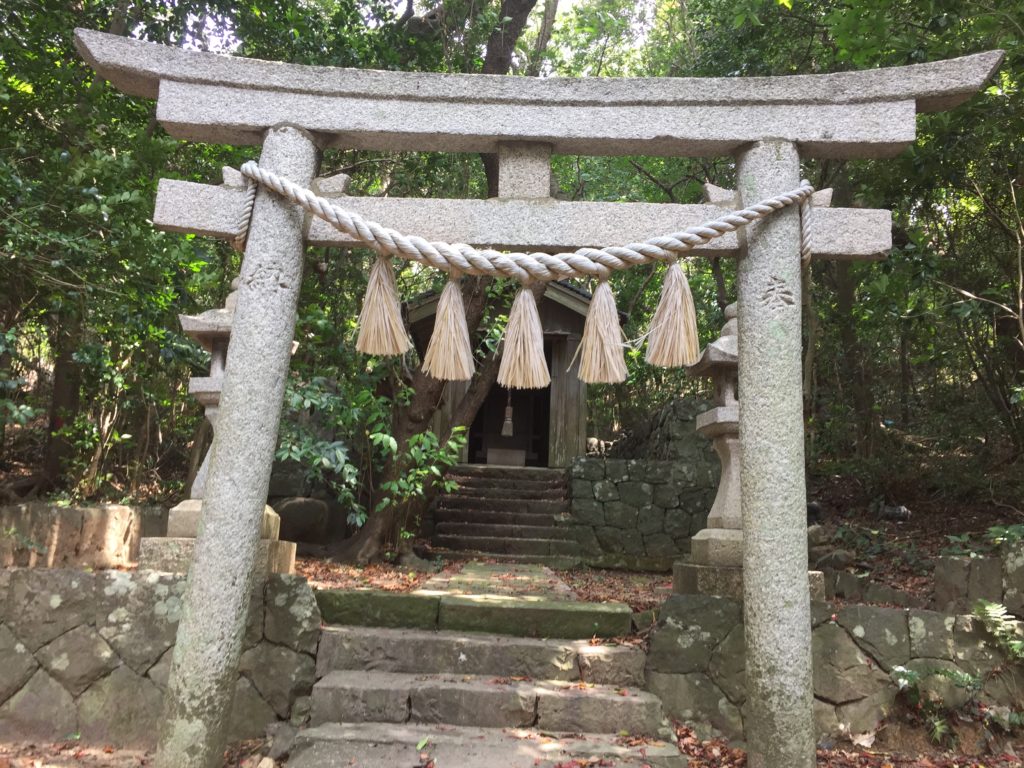 The Ryuo-jinja Shinto Shrine is located in the south of Mio and built on a sheer cliff overlooking the sea. The Japanese name "Ryuo" means "the king of dragon". The dragon has been regarded as the god of water and the local villagers have prayed at the shrine for their safety while fishing and sailing for a long time. It was said that the villagers built this shrine to ensure maritime traffic safety. In the past, there was a tradition for the local people to have festivals at this shrine to hope for rain that is essential for agriculture. In 1953, heavy flooding occurred in Mio and festivals were no longer held. The shrine is accessed by a steep paved path with a Torii at the entrance. It is about a 10 minute walk.
Ako tree
The Ako tree is a large subtropical tree in Eastern Asia. The Ako tree at Ryuo-jnja Shinto Shrine has a circumference of ten meters at its base, from where the trunk divides in two. The one trunk that grows out diagonally to the south is 3.2 meters long, and the branches that grow out from it reach eleven meters in height. This tree at the shrine is estimated to be between 300-350 years old. It is common to see large,old trees at shrines and temples in Japan. The Japanese believe that gods live in natural and living things and often regard trees around temples to be sacred.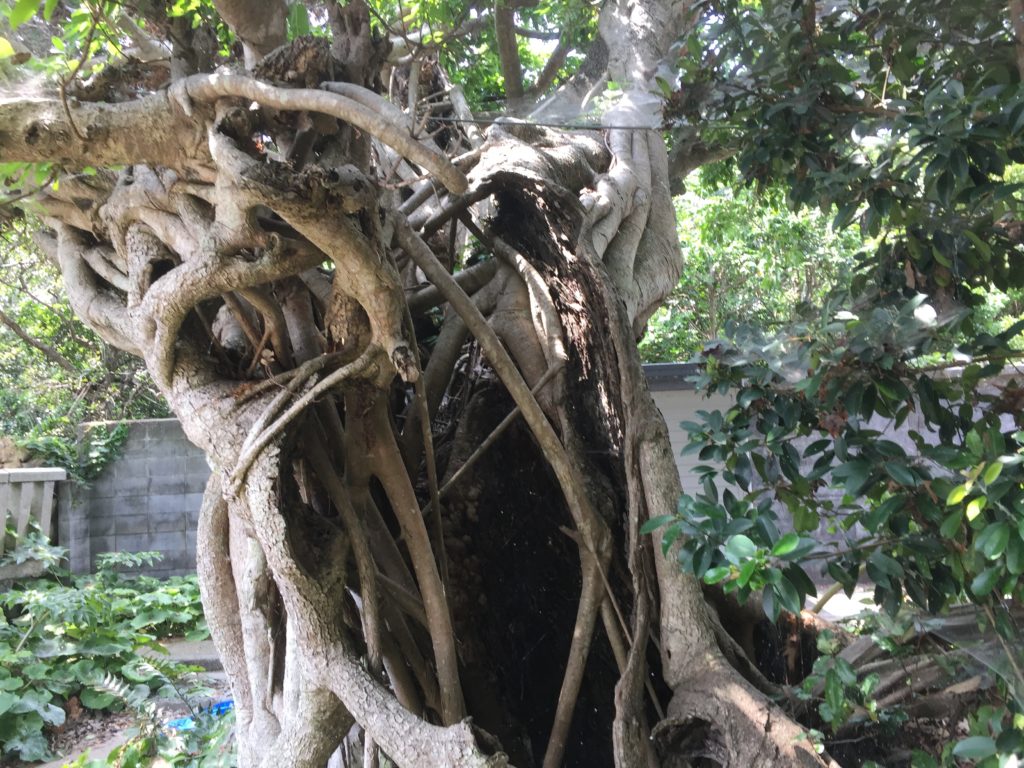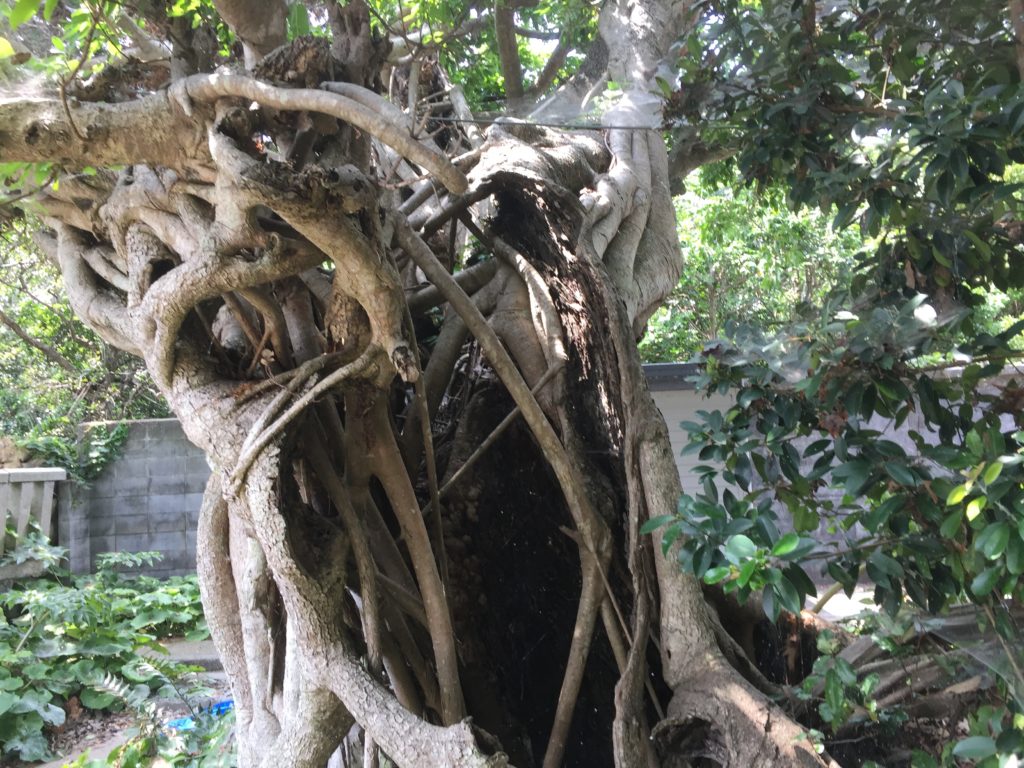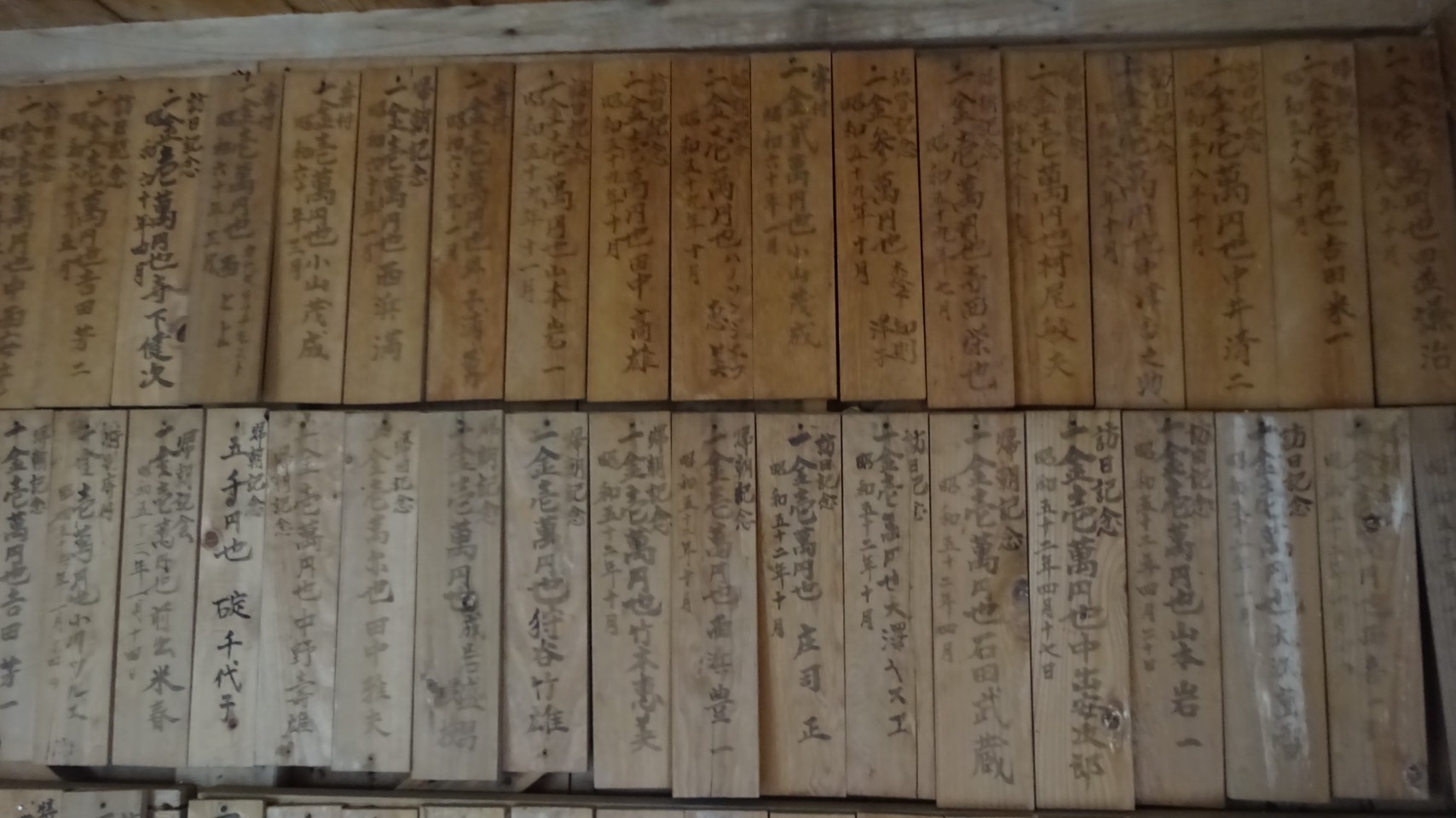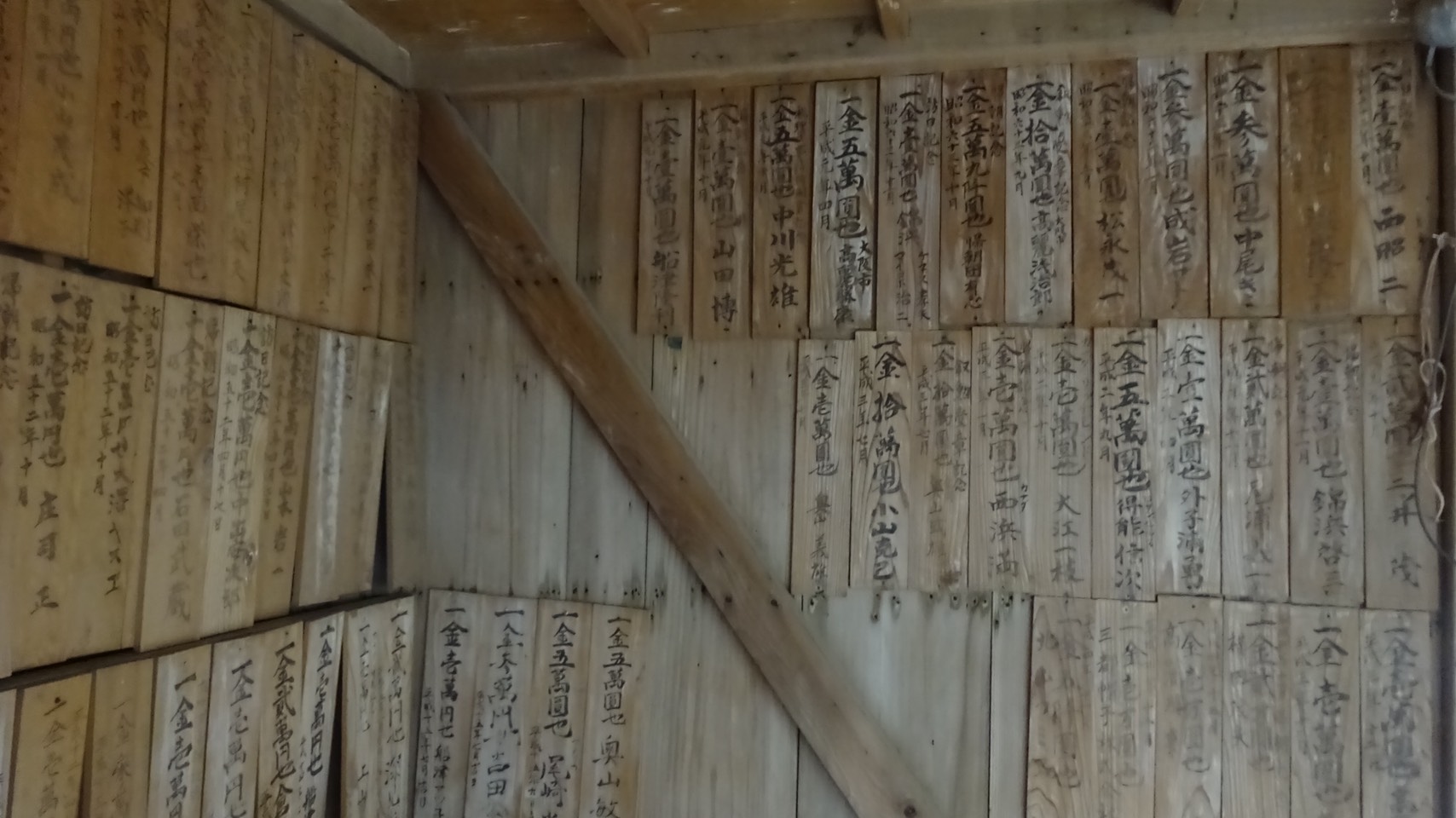 Many overseas families and individuals whose mother village is Mio, commonly known as "America-Mura," have donated to the shrine, and the names of the contributors are on these posted boards.
Opening Hours
All year around
Admission Fee
Free
Contact

Language : Japanese

Tel: +81-73-864-2433

Address
442,Mio,Mihama-cho,Hidaka-gun,Wakayama,644-0045,Japan
The nearest bus stop
America-Mura bus stop
Information provided by "Let's Kataribe project" and Ryuo-jinja Shinto Shrine
Hozenji-temple
Map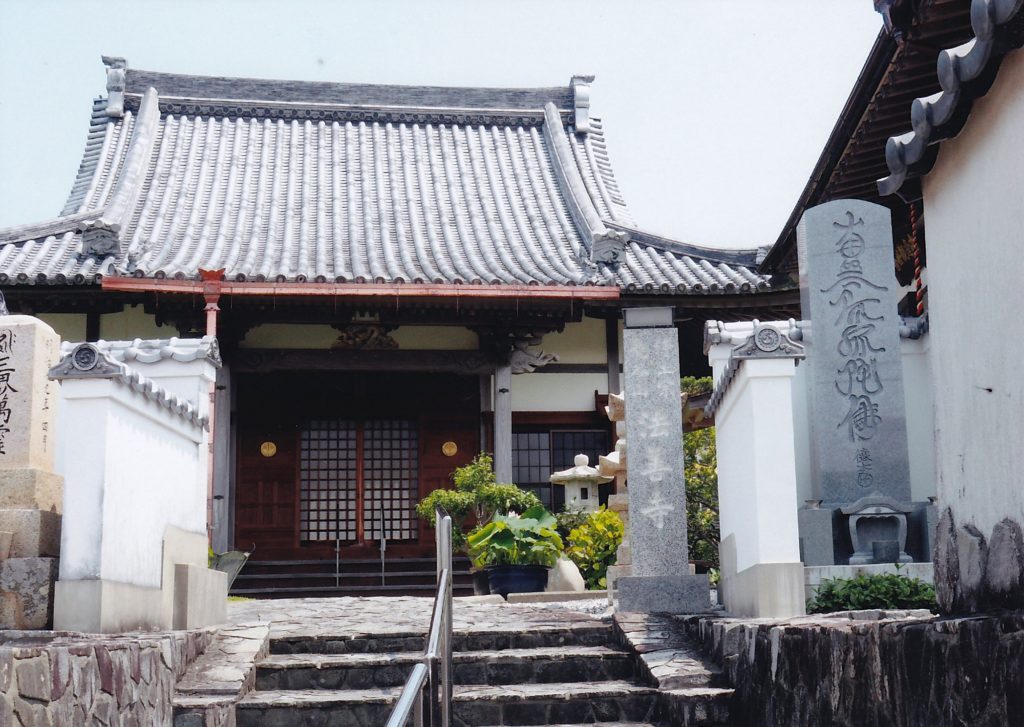 Hozenji-temple is a temple of the Buddhist Jodo sect with over a thousand years of history. There are some tombs of Canadian emigrants on the site. There is also an ossuary and sometimes foreign people come to the temple to put their hands together in front of the ossuary.
Here are some of the interesting items to look for at the temple.
Grave of Tameo Noda who is a hero of Vancouver-Asahi Canadian-Japanese baseball team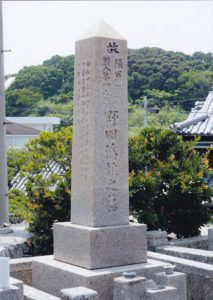 Tameo Noda is one of the members of the "Vancouver Asahi". The "Vancouver Asahi" was a Japanese Canadian baseball club from Vancouver that was founded in 1914. One of the city's most dominant amateur teams, the Asahi used skill and tactics to win multiple league titles in Vancouver and along the Northwest Coast. In 1942, the team was disbanded when its members were among the 22,000 Japanese Canadians who were interned by the federal government.
About Vancouver Asahi from Asahi Baseball Association
Stone monuments engraved with Haiku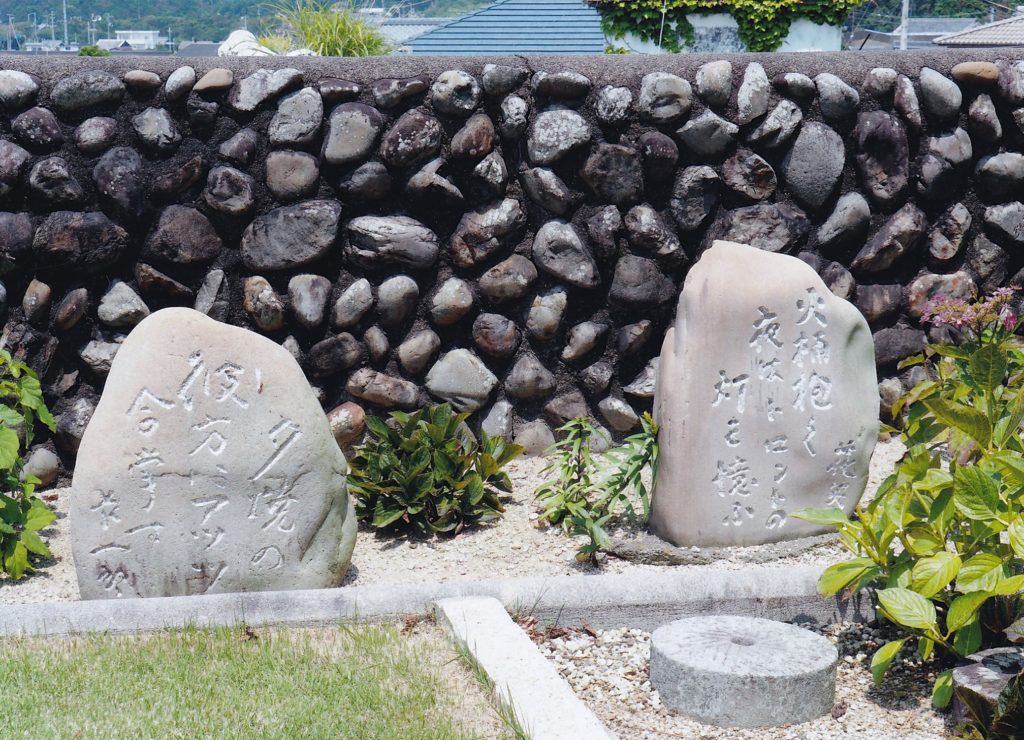 There are 13 poem monuments in this temple. These writers found the stones by themselves, wrote and inscribed their poems. These monuments are precious.
The following are some part of the poems.
A poem monument of right side.
"火桶抱く 夜はトロントの 灯を憶ふ"   花笑
The poem meaning
The writer miss the light of Toronto, Canada where the daughter lives and warming by the brazier.
A poem monument of left side
"夕焼けの 彼方にアッツ 合掌す"     長一郎
The poem meaning
The sunset is red. There is Attsu Island far away. Japanese army died an honorable in the Island in the Pacific War. The bright red sunset is just like the blood of a Japanese soldiers. Then, I put my hands together in prayer.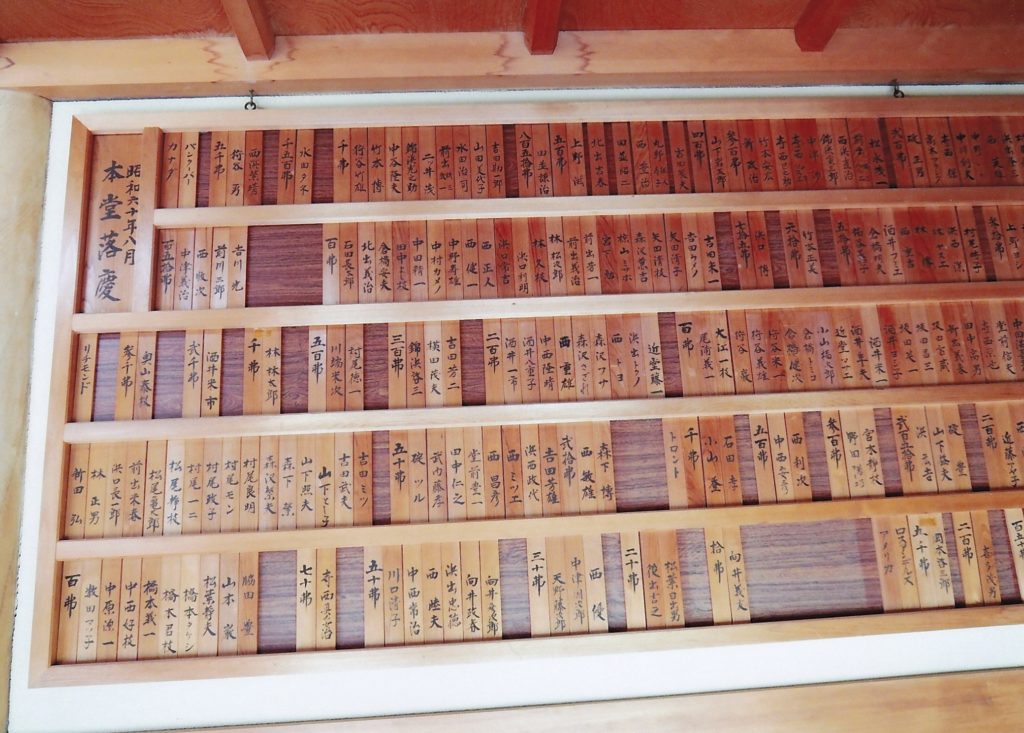 Many people have donated to the temple, and the names of the contributors are written on these boards.
Yakushi Nyorai Statue (The Medicine Buddha)
This statue is in Hozenji-temple and was made in the middle of the Heian period (794-1185). It is 150.2 centimeters tall, and it is made from Japanese cypress and is also the oldest Buddhist image in the country after those in Dojōji-temple in Hidakagawa Town, which has many national treasures and important cultural properties. It is not usually open for public viewing, but you can see it once a year on February 10th.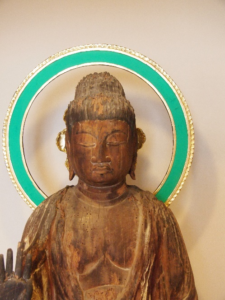 Opening Hours
All year around
Admission Fee
Free
Contact

Language : Japanese

Tel : +81-73-862-2202

Address
382 Mio, Mihama-cho, Hidaka-gun, Wakayama, 644-0045, Japan
The nearest bus stop
America-Mura bus stop
Information provided by Hozenji-temple
Komyoji-temple
Map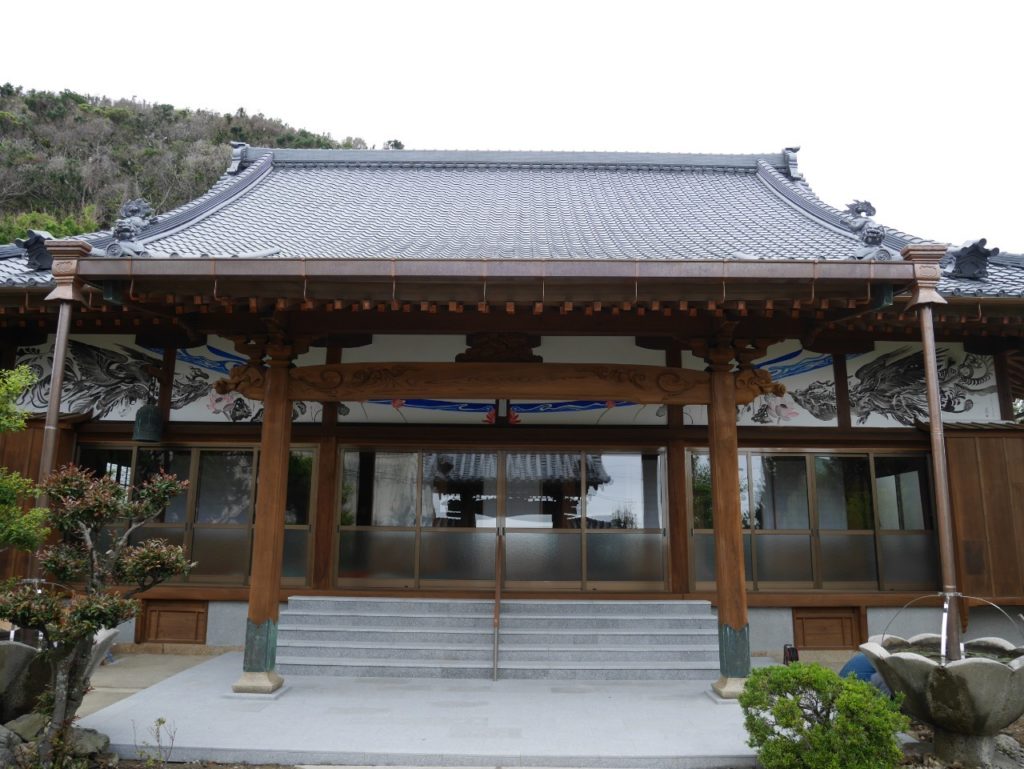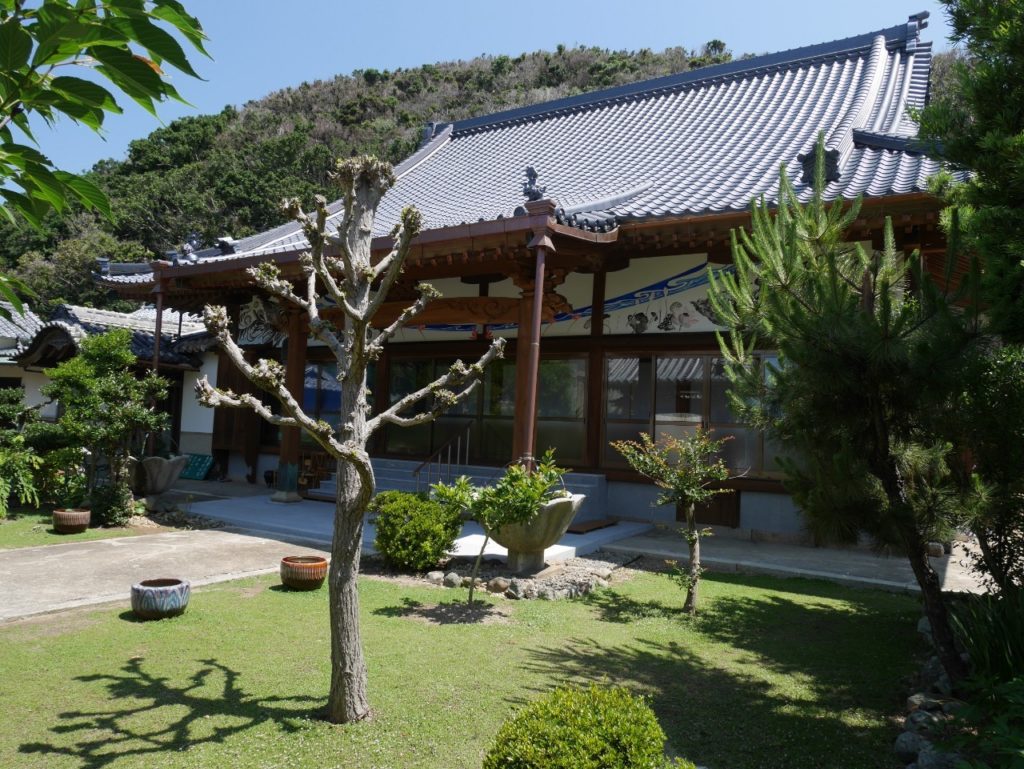 This temple has a history of 460 years in the Mio area. In 1930, the main hall of Komyoji Temple was established by a large amount of donations made by Canadian immigrants. There is a mountain gate of zelkova trees and a majestic luxury Shumidan in the main hall. A Shumidan is a place to enshrine a Buddha in a Buddhist altar.There are also beautiful Japanese thick pillars that are rare and no longer available to people. You can also find unique donation boards that are listed in dollars.
The repair was made in the spring of 2018. A Phoenix is painted in a white wall in front of the main hall. It was a piece of artwork by a Japanese painter from Mio named Yoshitaka Nishigaki. It could be his playfulness, but the art had fish swimming in the phoenix. Nishigaki says, " I drew a river although I didn't know whether you would notice it or not." If you get a chance, please search for the fish.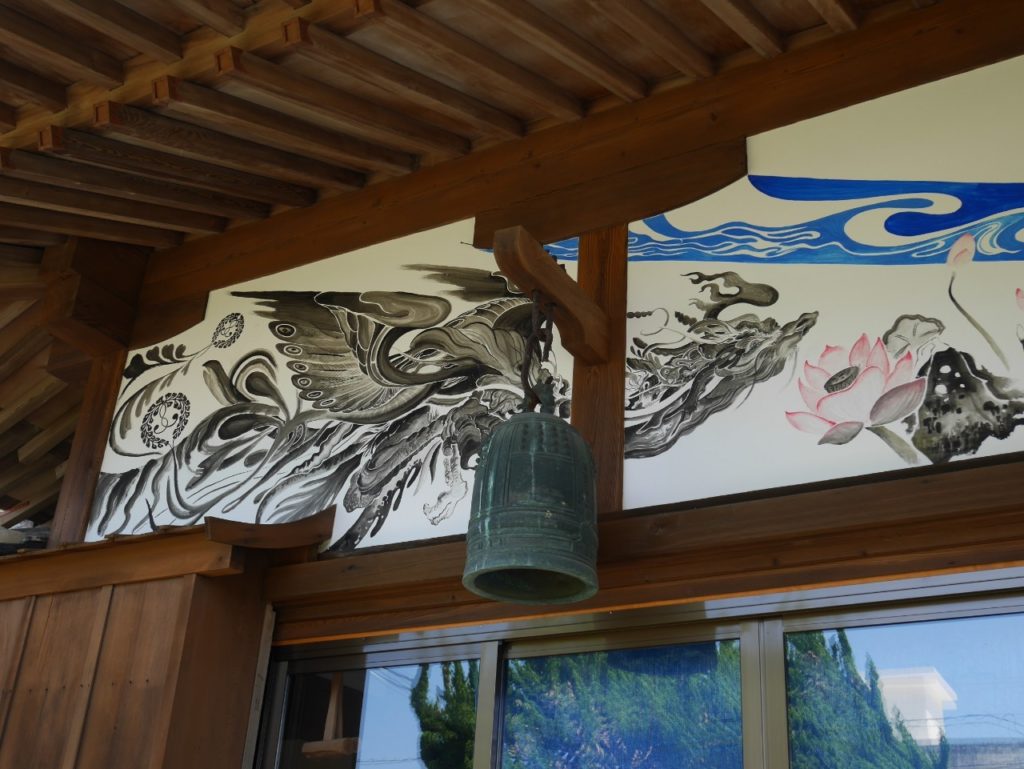 Opening Hours
All year around
Admission Fee
Free
Contact

Language: Japanese

Tel: +81-73-862-2629

Address

864 Mio, Mihama-cho, Hidaka-gun, Wakayama, 644-0045, Japan

The nearest bus stop

America-Mura bus stop
Information provided by Komyoji-temple
photograph ©Masanobu Mio
Uminekojima Island
Map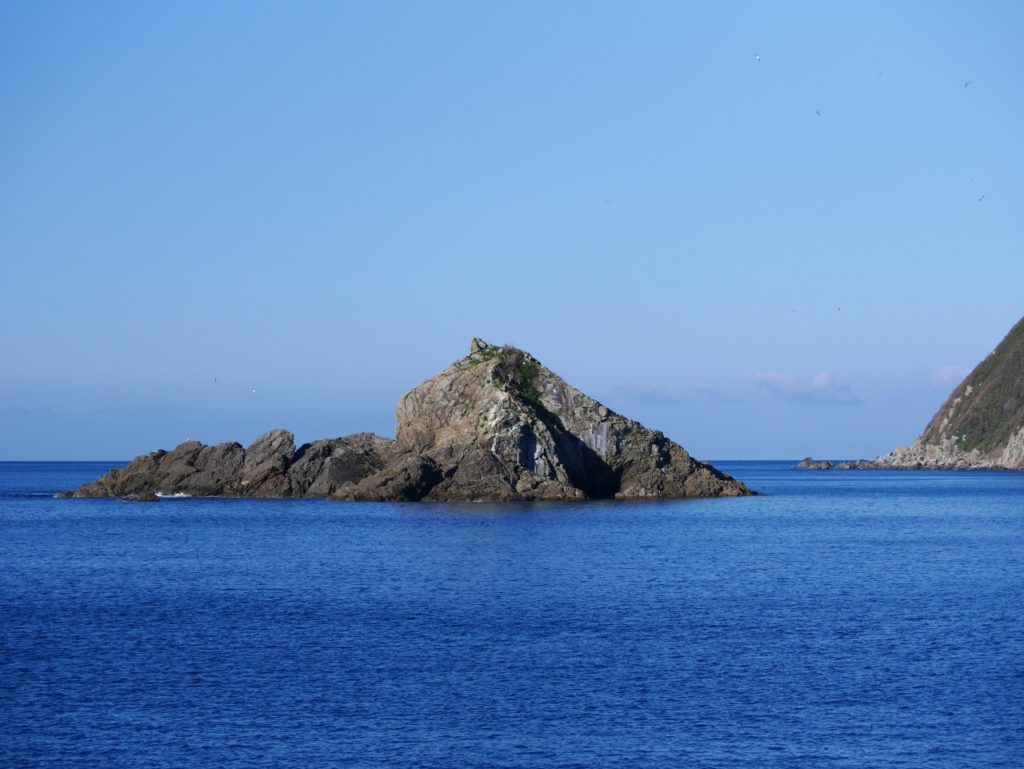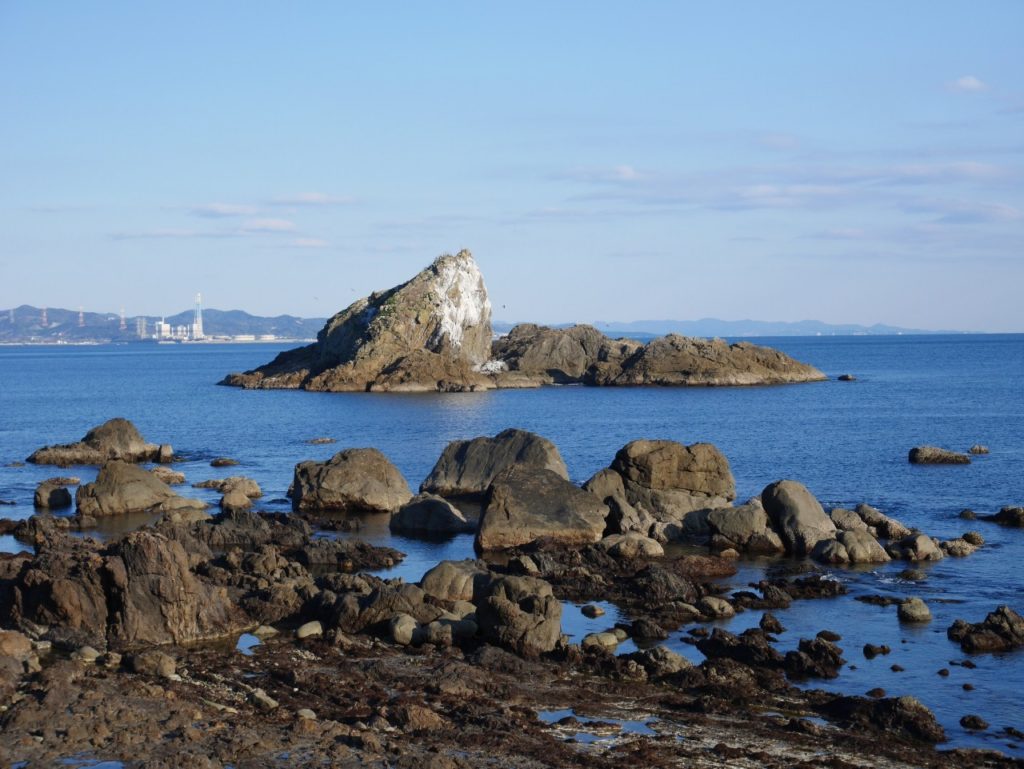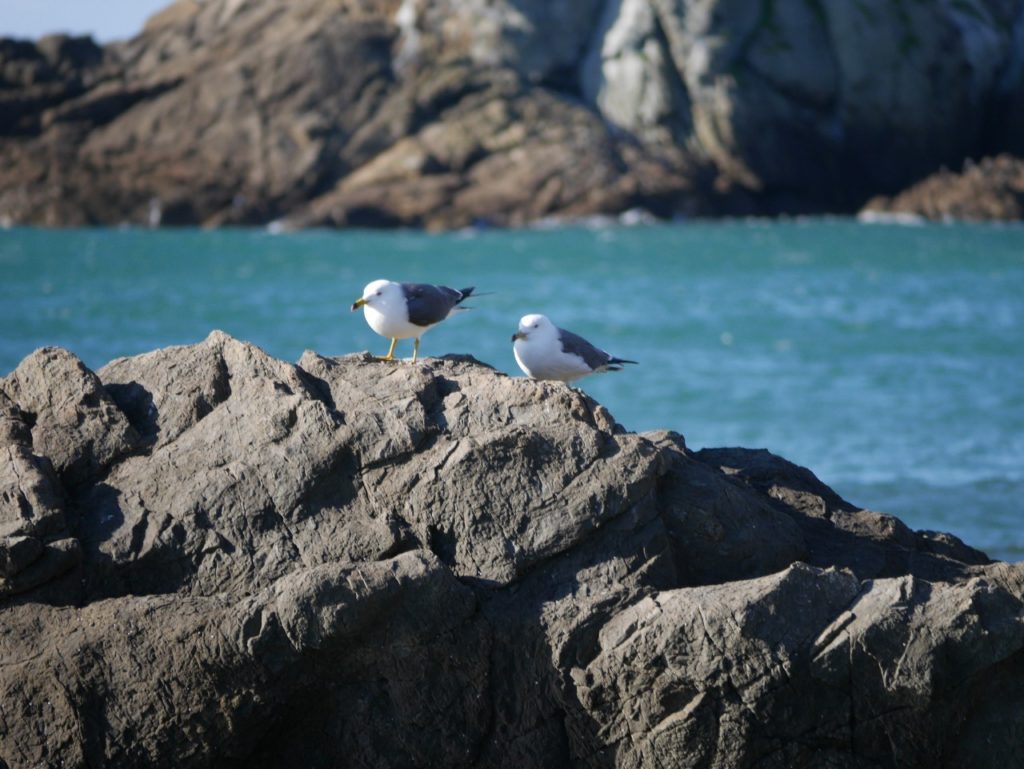 In Mio, you can enjoy seeing the beautiful sea during the daytime. You can also see something white floating on the surface of the sea. This is Uminekojima island. Why is it called "Uminekojima"? It is because this island is a favorite roosting spot for black-tailed gulls (in Japanese called,umineko, or "sea cat"), because of their cries' that are similar to those of cats. The original name was Amatori ("diver's") Island, but it is also known as Benten Island because it has a small shrine dedicated to Benzaiten, the goddess of water and music, one of seven deities of good fortune. Umineko begins to gather on the island from around March. The high season is from May to July. Hatching and rearing of newborn birds end between late July and early August, and all the birds leave the island.
Information provided by "Let's Kataribe project" and Kiyoshi Okamoto
Photograph ©Masanobu Mio
Monument of the Tokuhon Shonin site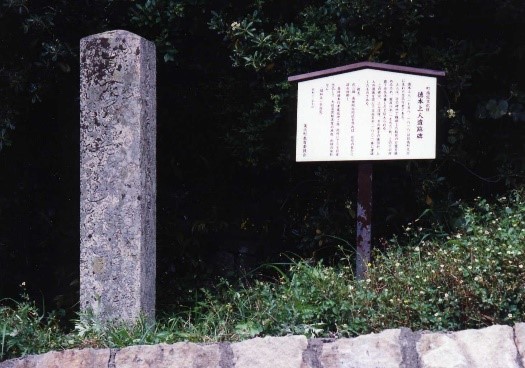 Tokuhon Shōnin (1758-1818) was a practitioner of Buddhist chanting (nenbutsu). In 1796, Shōnin held a memorial service in the cave under this monument for departed souls of sailors who perished in shipwrecks. The monument was made by Tokuin, Shonin's pupil, in memory of his master.
Information provided by Kiyoshi Okamoto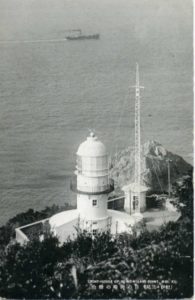 The first lighthouse (prewar postcard)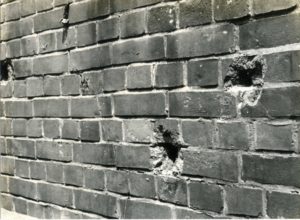 Bullet holes in brick wall
The first lighthouse was strafed by U.S. aircraft on July 21, 1945 and again on July 30, which caused it to burn down. Even now, there are bullet holes at several places in the brick wall that look like they could have been made yesterday. The current lighthouse is the third one built on Hinomisaki.
Information provided by Kiyoshi Okamoto